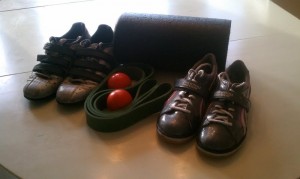 There are a few items that should be on every CrossFitter's Christmas wish list.  Whether you are an experienced CrossFitter upgrading some of your equipment or a new CrossFitter looking to improve your gear and your performance, here are a few must have products:
Weightlifting Shoes.  There is nothing worse than squatting in running shoes, and even minimalist shoes are inadaquate for heavy olympic lifts and squats.  Here are a few options to put on your list…
Pendlay Do-Wins from Muscle Driver
Foam Roller.  As a CrossFitter you are turning your body into a high performance machine, and you have to take care of it like one.  It isn't enough to workout and not roll the knots and tight bits out of your legs and back.  A foam roller you can keep at home to use is a must for every CrossFitter.
Foam Roller from Muscle Driver
Stretch Bands.  One of the most useful implements you can have.  Use it to stretch or for resistance or for assistance on a variety of exercises.
Lacrosse Balls.  This little gem is worth its weight in gold.  Keep one at home, in you office, in your car.  You never know when you might need to work out a tight spot, and these are cheap enough for you to keep in a variety of places.  Never leave home without it.
All of these products are sold online at Rogue Fitness.  They also sell gift certificates if your loved ones cant figure out which of these products to get you.